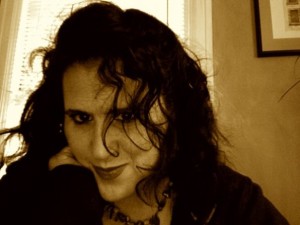 Nina Adel, a native of Milwaukee, Wisconsin, is an artist of language, sound, , images, thought and tangible creative works. Nina wrote, performed and co-produced three studio-length records, Do Ya Feel That Way?, The Things That Mama Never Taught Me and WildLife. She composes poetry, fiction and creative nonfiction,  savory dishes and small, magical spaces. She is currently creating hybrid literary works joining memoir, short and flash fiction and song. These works illuminate identity, otherness and the complex lives of adolescent girls and the women they become.
Nina's undergraduate studies at the University of New Mexico, American Academy of Dramatic Arts and Berklee College of Music prepared her for a diverse career as artist and educator. She holds a Master of Arts in English with a writing emphasis from Belmont University in Nashville, where she lives with her daughter and son. An actively performing, publishing and producing artist across genre and discipline, Nina is presently earning a Master of Fine Arts in Creative Writing at Hamline University, homeschooling her son and teaching college English and Creative Writing.
Nina has lived in a range of places and traveled to far corners. She speaks several languages. Language, land and the human condition occupy her time, thoughts and creative endeavors.